Veterinary Ophthalmologist Services - Clear Vision for Happy Pets
Veterinary
Eye Specialists

at Pawsitive Clinic
Our sight is one of the most precious things in the world, and not only do we believe that for ourselves, but for our furry friends too! In humans and animals alike, looking after our eyes and vision is an extremely important part of our health. When it comes to your pet's eye care, high-quality veterinary ophthalmology is essential. That's why Team Pawsitive prides itself on its world-class animal eye specialists and our state-of-the-art technology.
At Pawsitive Veterinary Clinic in Dubai, we provide expert veterinary ophthalmology services to ensure the well-being of your furry friend's eyes. Our team of specialised veterinarians and skilled technicians utilise the latest technology and methods to deliver accurate diagnoses and effective treatments for various eye conditions in pets.
What is Veterinary Ophthalmology?
Veterinary ophthalmology is the field of veterinary medicine dedicated to the diagnosis and treatment of eye conditions and diseases in animals. Our pets can suffer from a wide range of eye-related issues, including cataracts, glaucoma, corneal ulcers, conjunctivitis, and more. Veterinary ophthalmologist experts aim to identify the root cause of these conditions and provide appropriate treatment to address the issue and, overall, improve the quality of your companion's life!
When Should You Bring Your Pet for An Ophthalmology Exam?
If your pet shows any signs of discomfort, swelling, redness, discharge, or cloudiness in or around their eyes, it's time to seek out a vet eye clinic. Eye conditions in your pet may also be a symptom of an underlying medical issue or injury that requires immediate attention. Additionally, regular check-ups with an animal eye specialist can help prevent future eye problems for your furry friend.
What Should You Expect at Your Vet Eye Examination with Pawsitive?
At Pawsitive, we offer comprehensive eye care services for your pets, aiming to preserve and care for the vision of your furry friend and help improve their quality of life. Our veterinary ophthalmology services include a comprehensive eye examination that utilises advanced diagnostic equipment such as slit-lamp biomicroscopy and tonometry. These tests enable our vet eye clinic experts to detect any issues that may be affecting your pet's eyes, including corneal ulcers, glaucoma, and cataracts.
If a diagnosis is confirmed, the Pawsitive team will work with you to develop a customised treatment plan that is tailored to your pet's specific needs. Treatments may include surgery, topical or oral medication, and other therapies that can help restore or preserve your pet's vision.
Why Should You Choose Pawsitive Veterinary Clinic for Your Pet's Eye Care?
At Pawsitive Veterinary Clinic, we understand how important your pet's vision is to their overall well-being and quality of life. Our qualified and experienced veterinary eye specialists are committed to providing top-notch ophthalmic care for your pet, ensuring that they receive the best possible treatment for their vision.
Our veterinary ophthalmologist team takes the time to listen to your concerns and answer any questions you may have, providing compassionate care for both you and your pet. Whether your pet needs emergency care for an eye injury or routine ophthalmic check-ups, Team Pawsitive is here to help!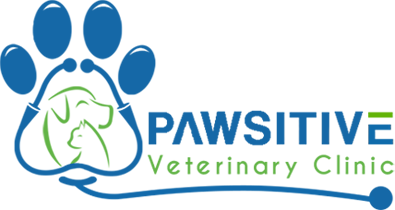 Where Your Pet's Health Comes First
Welcome to Pawsitive Veterinary Clinic, the best veterinary clinic in Dubai! We offer an extensive range of pet care services to cater to your pet's every need.
Whether your pet simply needs a check-up or requires emergency or specialist attention, we promise to deliver exceptional care that's thoughtful, caring, and flexible.
Pawsitive Veterinary Clinic is a veterinary-owned and led clinic with state-of-the-art facilities, offering 24-hour emergency veterinary assistance and care. We are a team of highly qualified veterinary experts dedicated to animal wellness, going above and beyond for each animal that we take care of!
The team members at Pawsitive are all licensed specialists in their fields with years of extensive experience handling and caring for animals and their needs. We promote a "no compromise" approach to the quality of services that we provide, and our team is hand-picked to show it.
We promise to make your as well as your furry friend's experience with us warm, top-notch & professional!
At Pawsitive, we treat your four-legged family members just as we'd treat our own. We are a team of world-class, highly qualified veterinary doctors and nurses offering you and your pet a comprehensive range of services to meet your needs.
Make us your vet clinic of choice in Dubai!