Professional Dental Care for Pets - Bright Smiles, Happy Tails
When it comes to keeping our pets healthy, pet parents often overlook the importance of oral hygiene and pet dental care. One of the best, and easiest, indicators of oral disease is bad breath. But with that said, even if your pet isn't outwardly showing signs of oral health issues, it's worth asking our expert veterinarians to assess your pet's teeth during a regular health exam to help prevent potential problems! We offer a wide range of pet dental services that keep your furry friend's smile bright.
Dentistry is important for animals too! Similar to humans, your pets require routine dental care to remove plaque and tartar-forming bacteria from their teeth. While dental home care, such as brushing, will significantly reduce the number of bacteria in the mouth, professional dental services are often required for the best results.
Pawsitive Veterinary Clinic offers professional dental services that include comprehensive oral health assessments, ultrasonic scaling, polishing, antibacterial rinses, dental sealants, and dental surgery, including tooth extractions.
Imagine what your mouth would feel like if you never brushed your teeth or went to the dentist! According to the American Veterinary Dental Society, more than 80% of dogs and 70% of cats have dental disease by the age of 3. Dental or periodontal disease is the most frequently diagnosed health problem in pets. Often, they do not show signs of obvious pain or discomfort, even with severe disease. It is common for clients to tell us that they didn't notice a problem at all, but their pet seems years younger after their dental procedure!
At Pawsitive, our pet dental care and pet dental cleaning services are your solution to healthy teeth for your furry friend. When you bring your pet in to see us, we can make an estimate for a Comprehensive Oral Health Assessment and Treatment (COHAT). We can also help show you how to brush your pet's teeth and recommend foods, treats, and other homecare products that will help reduce gum inflammation, plaque and tartar buildup. There are also lots of great and not-so-great products out there, which can be daunting for a pet owner. Products with the VOHC seal have proven that they at least reduce plaque and/or tartar and many of them are available in grocery and pet stores. We'll help you select the right one for your pet!
As with human dental procedures, a thorough pet dental exam requires assessing each tooth with a probe and radiographs. But, unlike with human dental procedures, we can't tell cats and dogs to open, close, rinse or spit! For this reason, we need to put your pet under general anaesthesia for a safe and pain-free experience. For more information on how we approach pet anaesthesia at Pawsitive, check out our anaesthesia section. Keep reading the dentistry procedure below too for more information!
Ideally, all pets would have a COHAT yearly throughout their adult years. Some pets with severe dental disorders need one every six months. Bacteria and food debris accumulate around the teeth and, if left unchecked, can lead to the deterioration of the soft tissue and bone surrounding the teeth. This decay can result in irreversible periodontal disease, tooth loss, jaw fractures, jaw bone infections, and expensive oral surgery. Some breeds can have crowded or rotated teeth, and are more likely to have food accumulate and cause these problems.
The bottom line? Regular veterinary dental procedures, before an obvious problem occurs, can help your pet keep most of their teeth and keep their mouth pain-free for life.
Pawsitive Pet Dental Services
Once your pet has been safely anaesthetised, a detailed oral examination is performed, much like your own dentist does. Each tooth is examined individually, for damage such as wear, fractures, and discolouration. The mouth is fully checked for issues between teeth, the health of the gums, and any other abnormalities such as root exposure or any pockets of infection that may be hiding. We record our findings on your pet's dental record.

The mouth is rinsed with an antibacterial solution.

A treatment plan is made by the veterinarian based on the examination and radiographic findings. If there are extractions, the appropriate dental blocks are done at this time.

Teeth are scaled above and below the gum line with an ultrasonic scaler and also by hand. Any pockets of infection between the crown and gumline are removed and flushed.

If extractions are required, they are done at this stage using specialised dental equipment including a high-speed dental drill and hand equipment like elevators and luxators. Each site is radiographed again to ensure that no root pieces are left behind, then the site is cleaned, smoothed, packed with a material to provide the building blocks for bone growth, and sutured closed.

The remaining teeth are polished above and below the gum line. This smooths the surface of the tooth, preventing the early accumulation of plaque and tartar.

The oral cavity and gingival sulci (area of the gums that surrounds the teeth) are flushed with water and an antibacterial solution to remove any remaining debris.
The Pawsitive team ensures that your furry friend receives gentle, thorough treatment during their pet dental cleaning and examination procedures. Our qualified veterinary experts are there to make both you and your pet smile!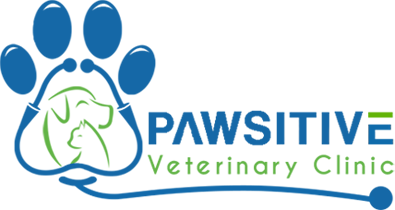 Where Your Pet's Health Comes First